Blog Post: Robotic News February 2022
Due to technical issues, we are unable to access our film recording of the February News. We are very sorry that there won't be a News video this month. Instead, you can read our news in the blog post below.

You can subscribe to the Robotics Channel here.

In our robotics news of February 2022, we have the following topics: Wandelbots receives $84 million in investment, an Apple Drone has been developed, DHL invests in Boston Dynamics robots, and we introduce two new grippers that could revolutionize this application.
Wandelbots receives $84 million in investments
German startup Wandelbots has received $84 million in investments in a Series C funding round.
In addition to existing investors such as Microsoft, global technology investor Insight Partners also participated in the financing.
Wandelbots aims to advance automation by developing technology that makes working with industrial robots easier. Now, the company has developed a software kit that should make it possible to teach robots without programming skills.
Wandelbots was founded in 2017, and in addition to the Trace Pen, the company has also created a developer platform. According to the company, it has already raised a total of $123 million in capital, and Wandelbots' technologies are already being used by Fraunhofer, BMW and VW.
We are excited to see what innovations the software construction kit will bring, and we wish the company continued success.
The Apple Drone for apple picking
A prototype for the Apple Drone has been completed. No, this is not the latest development from Apple, but the name is to be understood literally: It is a drone for apple picking.
The device was developed by Tevel Aerobotics Technologies and is intended to relieve fruit growers of the time-consuming work of apple picking. The Apple Drone is a quadcopter equipped with cameras, sensors and a gripper arm. The drone can pick the apples and then drop them into a bin. It can also detect if the fruit is ripe yet.
One drone for a whole apple orchard would not be enough, it should of course work in a team with other drones. Multiple drones are connected to a mobile station that slowly drives through the farm, supplies the drones with power, and collects the falling apples. This should allow them to work day and night, and the Apple Drones also provide real-time data. Other harvesting robots specifically for fruit trees already exist, however, the drones are said to have greater functionality and flexibility.
The Apple Drone is not quite ready for the market yet, investments are still being collected, but pilot programs for several countries have already been announced.

Watch the Apple Drone in action here (YouTube)
DHL invests in Boston Dynamics robots
Deutsche Post DHL Group continues to expand automation and will use Boston Dynamics robots in warehouses in North America.
DHL announced that $15 million has been invested. A multi-year agreement has been reached, and Stretch robots will be put to use in several DHL warehouses in the USA and Canada over the next three years. Stretch was presented in 2021, it is a logistics robot that was developed and tested in cooperation between Boston Dynamics and DHL. For Boston Dynamics, this is the first commercial deal with Stretch robots.
DHL wants to increase automation, and thus improve efficiency in the warehouses as well as employee safety. Stretch can handle packages weighing up to 23 kilos and is mounted on a mobile platform, so it can be moved and used flexibly. This makes it possible to automate warehouses faster and at a lower cost. It also has a computer vision system, so it can detect package sizes. It doesn't need to be trained, and can even help with more difficult warehouse problems, such as when boxes are lying around unsorted or when dropped boxes need to be repositioned.
Stretch is said to be able to move about 800 boxes per hour, which is about the same as a human worker. The first robots are to be deployed in DHL warehouses in the spring, with more to follow later. The deployment will then be expanded to other facilities over the next few years.
Boston Dynamics introduces Stretch Robots (YouTube)
New grippers
Gripping is one of the most important applications in robotics, which is why a lot of research and development is being done in this area. Now, two new grippers have been developed, one inspired by nature and the other by a Japanese folding technique.
Let's first look at the gripper developed by researchers at Kiel University in Northern Germany. For some time now, grippers have been using the Fin-Ray effect, which, as the name suggests, is inspired by fish fins. This is a special bionic design that adapts well to the contour of target objects, allowing the robot to grip objects tightly without exerting much pressure. Similarly, fish fins adapt to different flow conditions because they have special cross-braces inside.
Insects also use this effect; these struts are found in their feet as well, which help the animals to better adapt to surfaces and adhere to them securely.
In insect feet, the cross struts are at different angles, while in grippers, they are usually at 90 degree angles to the height.


Bild: Hamed Rajabi
Now an international team has researched how different angles affect the behavior of the gripper arms, and what forces act on the grippers and the target objects in each case.
To do this, robotic feet were simulated to have cross struts ranging from ten to 170 degrees and gripped different pipes. The candidates with the best results were then built via 3D printer and further tests were performed on real objects.
The result was that the gripper arms with cross struts at an angle of 10, 30 and 120 degrees achieved the best results, which means they also performed better than the commonly used 90 degrees. In a practical test, six-footed robots were then equipped with the acute-angled grippers and made to run over stony terrain. The robots ran faster, were able to move more easily and used less energy than those with struts at 90-degree angles. One potential application for this discovery could be the oil and gas industry, but food and other delicate items could also be picked up more easily with these grippers.
As a next step, the research team also plans to test which materials are most suitable. All in all, the team hopes that this research can change and improve the gripping industry. It's a very promising project that could open up many new possibilities.
Watch the six-feet robot here (YouTube)

Scientists at the University of North Carolina have also developed a new gripper, but it bears little resemblance to anything we've seen before. In fact, this soft robot gripper is based on the Japanese art of folding and paper cutting called Kirigami, which allows three-dimensional objects to be formed from a sheet of paper without the need for adhesives. The gripper is able to pick up and put down particularly delicate objects, such as egg yolks, live fish or even soap bubbles without damaging them.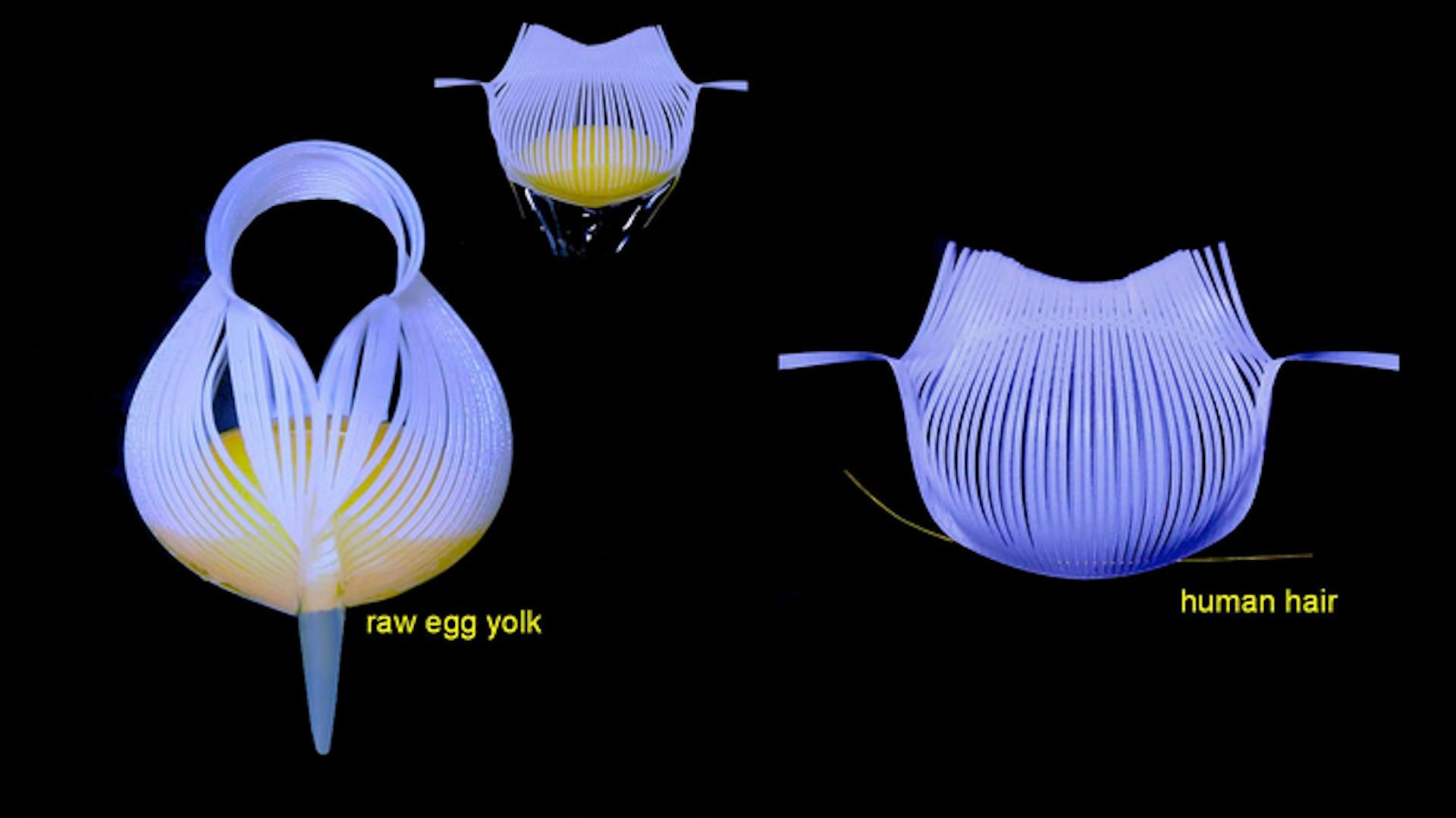 (Bild: Hong et al. / Nature Comm. (2022))


Normal grippers pick up objects by applying pressure to them, which can cause fragile objects to be subjected to too much stress and thus be destroyed. When humans pick up fragile objects, we enclose them with our hands, and that's exactly what the new gripper does. It has a spherical structure that allows it to enclose objects without exerting pressure.
The two-dimensional foil can be folded to form a spherical gripper. When the ends of the foil are pulled, the gripper encloses the object; if the pull is reduced, it gets released.
The researchers also see other potential applications for this technology apart from gripping. Among other things, they say, the same principle could be used in biomedicine, for example as intelligent knee braces that better enclose the joint and provide more range of motion.
The gripper is not yet ready for commercial use. Tests so far show that it works, and now the technology is to be adapted for soft robots in industrial applications. For this, the researchers want to work with partners in the industry to make the technology ready for industrial use.
Watch the Kirigami gripper pick up objects (YouTube)
This was our February 2022 News. We hoped you enjoyed learning about these topics.
Our March News will be in video format again, we apologize once more for the inconvenience. In the meantime, make sure to subscribe to the Robotics Channel & activate the bell so that you get notified when we upload new videos.

Create an account or sign in to comment
You need to be a member in order to leave a comment
Sign in
Already have an account? Sign in here.
Sign in Now